CHRISTMAS 2020 AT THE WHITE HART INN
ADULTS ENJOY A FREE GLASS OF PROSECCO & KIDDIES ENJOY A FREE CHILD'S MAIN COURSE MEAL
The cosy 17th Century atmosphere of  The White Hart Inn is perfect to enjoy delicious home cooked food, great drinks and good cheer with your family and friends this Christmas.
This year, host and chef Sam has created some wonderful dishes offering both the traditional and the less traditional including choice vegetarian & vegan selections with something for all tastes.

"We Had A Delicious Meal ... " 
" ... We had a delicious meal, great service and very good value. A great start to our festivities"
Claire Haygreen, Facebook, December 2019
CHRISTMAS MENU 
Free Glass Of Prosecco On Arrival (For Adults)
.
MAIN COURSE CHOICES 
Indulge yourself with one of our delicious main course choices, each specially crafted by Chef Sam to make your festivities memorable
Traditional Roast Turkey With Festive Stuffing, Homemade Pigs 'n' Blankets & Cranberry Sauce
Roast Beef With Yorkshire Pudding
Homemade Christmas Turkey Pie
Salmon Steak & Beurre Blanc Sauce
 Mixed Bean, Sage & Onion Loaf (v)
Spinach & Ricotta Tortellini (v)
Butternut Squash & Field Mushroom Risotto (vegan)
All main courses are served with Roast Potatoes, Winter Seasonal Vegetables and all the Christmas Trimmings
(v)  -  vegetarian dishes      (vegan)  -  vegan dishes
.
JUST £12.95 PER ADULT MAIN COURSE
PAY ONLY £10.95, IF BOOKED BY 30 OCTOBER
KIDDIES (UP TO 8 YEARS OLD) EAT FREE WITH A CHILD'S MAIN COURSE (MAXIMUM 2 FREE CHILD'S MEALS PER GROUP)
STARTERS
Start your festivities with one of our classy starter dishes. Starter choices may vary on the night
Homemade Pigs 'n' Blankets With Dijon Mayo & Red Onion Chutney
Homemade Leek & Potato Soup With A Warm Roll & Butter
Smooth Pate Served With Toast & Red Onion Marmalade
6 Scampi Pieces Served With Tartar Sauce
Seasonal Turkey Ballantine, Dark Turkey Meat In A Red Wine & Cranberry Jue
Festive Caesar Salad, Green Salad With Croutons, Olive Oil & Lemon Juice
Smoked Bacon Christmas Sprouts In A Moreish Cream Sauce Of Smoked Bacon & Sherry
Buttery Green Beans Sauteed With Toasted Pine Nuts & Almonds
Christmas Ham Croquettes Served With A Mild Tomato Salsa
Prawn Cocktail In A Creamy Marie Rose Sauce With Homemade Bread
Ham Hock Terrine With A Hint Of Course Grain Mustard & Herbs, Served With Piccalilli
Dreamy Garlic Bread With Melted Cheese
Fully Loaded Potato Skins Filled Either With Bacon & Cheese Or Cheese & Onion
Salmon & Prawn Seafood Croquettes With A Caper, Lemon & Dill Mayo
Creamy Sauteed Garlic Mushrooms With Toasted Baguette & Butter
JUST £6.00 PER STARTER DISH
DESSERT CHOICES
We offer a large choice of tasty desserts to complete your Christmas meal. Choices may vary to selections shown here
Traditional Christmas Pudding & Brandy Custard
Rich Sherry Trifle (V)
Sticky Toffee Pudding & Custard(V)
Yule Log
Spiced Chocolate Cake
Tiramisu Layer Cake
Chocolate Profiteroles
Fruit Crumble & Custard
Sticky Gingerbread
Chocolate Nut Sundae
Chestnut Chocolate Pots
Maple Cheesecake
Ice Cream Sundae
JUST £6.00 PER DESSERT DISH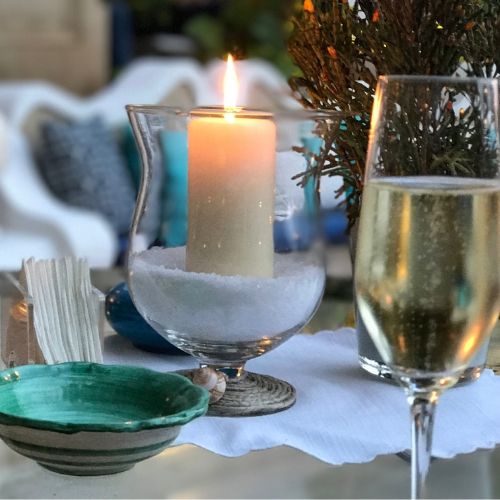 Availability Of Our Christmas Meals
18 November 2020 to 10 January 2021
For November
Lunchtimes: Saturday & Sunday (from noon)
Evenings: Wednesday, Thursday, Friday, Saturday (from 6pm) & Sunday (last table booking 6.30pm)
For December
Lunchtimes: Wednesday, Thursday, Friday, Saturday, Sunday (from noon)
Evenings: Every evening (from 6pm) & all day Sunday (last table booking 6.30pm)
For January
Lunchtimes: Saturday & Sunday (from noon)
Evenings: Tuesday, Wednesday, Thursday, Friday, Saturday (from 6pm) & Sunday (last table booking 6.30pm)
PLEASE NOTE: DUE TO COVID RESTRICTIONS, SADLY ALL CUSTOMERS MUST LEAVE BY 10PM, EACH EVENING

BOOK YOUR CHRISTMAS TABLE
To book your Christmas table, please complete the contact form below.
Include the date and time of your preferred booking along with the numbers for your reservation and your menu choice.  Also include your name, your email address, & 'phone number so that we can contact you.
Alternatively, you could 'phone us on 01373 836324
DUE TO COVID-19 REGULATIONS, NO GROUP SIZE GREATER THAN 6 CAN ACCEPTED, SADLY.
We will contact you very shortly.  
Thank you for your booking.
.
By using this form you agree with the storage and handling of your data by this website. We promise to store it responsibly in accordance with GDPR legislation.
We look forward to hearing from you